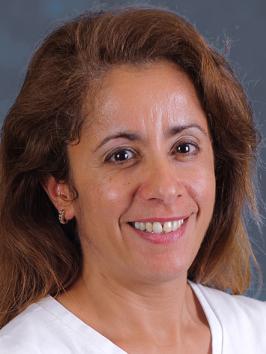 Fawzia Bardag Gorce, PhD
Investigator, The Lundquist Institute
Associate Researcher, Department of Pathology at David Geffen School of Medicine at UCLA
Cultured autologous oral mucosal epithelial cell sheet is produced to reconstruct the ocular surface and manage corneal blindness
Research Description
The project aims to bring CAOMECS (Cultured Autologous Oral Mucosa Epithelial Cell Sheet) to the clinical practice to reconstruct the ocular surface of patients suffering from moderate to severe symptoms caused by trauma (i.e., blast) or eye diseases (i.e., Limbal Stem Cell Deficiency).
CAOMECS is an autologous multi-layered cell sheet produced by culturing oral mucosal epithelial cells obtained from a small biopsy of the patient's buccal tissue. CAOMECS is subsequently grafted back onto the patient's eye.
CAOMECS is a living cell sheet that presents numerous benefits. There is no dependency on the availability of healthy limbal stem cells, e.g., from the other eye, or the use of keratolimbal allograft from cadaveric tissue or living-related donors. There is an unlimited on-demand tissue supply. There is no wait for a donor, no need for histology match or lifelong immunosuppressant medication, and there are no foreign tissue rejection risks involved. The cells are delivered right to where they are needed. CAOMECS graft is designed to safely reconstruct the ocular surface, reduce pain/discomfort, restore visual function, and improve the patient's quality of life.
Education
PhD, 1999, Blaise Pascal University, Clermont-Ferrand, France
Recent and/or Significant Publications