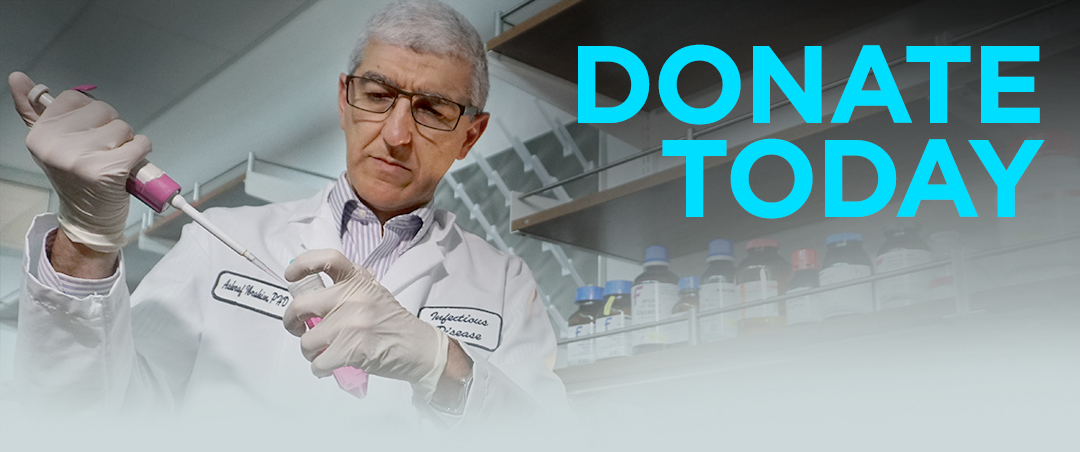 Since 1952, The Lundquist Institute has saved and improved hundreds of thousands of lives through its cutting-edge research, education, and community outreach efforts.
Meet Lundquist Investigator Dr. Ashraf Ibrahim, who is developing a promising vaccine that could combat a certain type of deadly hospital-acquired infections known as Candida auris. Your support can make a real difference in bringing this new vaccine and many other therapies into reality.
Your generosity can also make an impact by:
Improving patient outcomes through the design and implementation of clinical trials to investigate novel therapies for various diseases.

Supporting current and future generations of scientists and innovators.

Expanding our capabilities by helping purchase the most leading-edge medical devices and imaging equipment, as well as learning and teaching new and innovative techniques.
Thank you for your support.
Please contact us at donate@lundquist.org or (323) 457-1920 for any questions.
Ways to give
To make your gift by check (payable to The Lundquist Institute), please mail it to:
The Lundquist Institute
Development Office
1124 West Carson St.
Torrance, CA 90502
Bank Information
ABA: 322285781
SWIFT code: PPBIUS66
Name: Pacific Premier Bank
Address: 1901 Von Karman Ave Ste 1200, Irvine, CA 92614
Account #: 8000062147
Account Name: Lundquist Institute for Biomedical Innovation at Harbor-UCLA Medical Center
Address: 1124 W. Carson StreetTorrance, CA 90502
Bank Information
Name: Pacific Premier Bank
Account name: Lundquist Institute for Biomedical Innovation at Harbor-UCLA Medical Center (formerly Los Angeles Biomedical Research Institute)
Account Number (IBAN): 8000062147
ABA (Routing #): 322285781
SWIFT code: PPBIUS66XXX
Address: 17901 Von Karman Ave Suite 1200, Irvine, CA 92614
Contact: Kristine Chung kchung@ppbi.com
Company Information
Tax ID: 95-2138184
Mailing address: 1124 W. Carson Street, Torrance, CA 90502
Contact: Michael Jones michael.jones@lundquist.org
Pershing LLC
DTC# 0443
Account #: ACG118238
Account Name: The Lundquist Institute General Fund