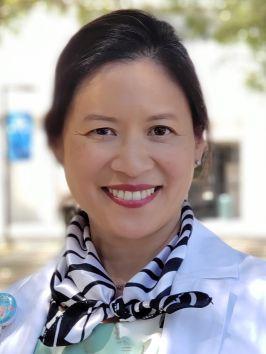 Delphine Lee, MD, PhD
Investigator, The Lundquist Institute
Chief and Residency Program Director
Division of Dermatology, Department of Medicine, Harbor-UCLA Medical Center
Contact
Translational Immunology, Microbiome
Research Description
Dr. Lee's research team analyzes high-dimensional data ("big data") to gain insights and testable hypotheses, which employ standard molecular, cellular and immunologic methods to investigate mechanisms and develop therapeutic and preventive strategies against infections, cancers, and skin diseases.
Current projects include:

1. Microbiome: analyses of the skin and mucosal microbiomes of patients with acute staphylococcal skin infections; determining whether the primary tumor microbiome and immune infiltrate are linked to cancer outcomes (models: metastatic melanoma, oral cancer, colorectal cancer); comparing the microbiomes of patients with triple negative breast cancer vs. ER + breast cancer; defining the mouse mammary gland microbiome.
2. Cancer: visceral adiposity and skin cancer risk (epidemiology/modeling); the protective role of Sphingomonas yanoikuyae in treating or preventing breast cancer (animal models).
3. Psoriasis: association of obesity, insulin resistance and diet modification on psoriasis (epidemiology/modeling).


Education
MD, PHD, University of California, San Diego
Recent and/or Significant Publications
Noguti J, Chan AA, Bandera B, Brislawn CJ, Protic M, Sim MS, Jansson JK, Bilchik AJ, Lee DJ. Both the intratumoral immune and microbial microenvironment are linked to recurrence in human colon cancer: results from a prospective, multicenter nodal ultrastaging trial. Oncotarget. 2018 May 4;9(34):23564-23576. doi: 10.18632/oncotarget.25276. eCollection 2018 May 4. PubMed PMID: 29805756; PubMed Central PMCID: PMC5955112.
Lardone RD, Plaisier SB, Navarrete MS, Shamonki JM, Jalas JR, Sieling PA, Lee DJ. Cross-platform comparison of independent datasets identifies an immune signature associated with improved survival in metastatic melanoma. Oncotarget. 2016; 7(12):14415-28. PubMed PMID: 26883106, PMCID: PMC4924725

Chan AA, Bashir M, Rivas MN, Duvall K, Sieling PA, Pieber TR, Vaishampayan PA, Love SM, Lee DJ. Characterization of the microbiome of nipple aspirate fluid of breast cancer survivors. Scientific reports. 2016; 6:28061. PubMed PMID: 27324944, PMCID: PMC4914981

Flaherty DC, Lavotshkin S, Jalas JR, Torisu-Itakura H, Kirchoff DD, Sim MS, Lee DJ, Bilchik AJ. Prognostic Utility of Immunoprofiling in Colon Cancer: Results from a Prospective, Multicenter Nodal Ultrastaging Trial. Journal of the American College of Surgeons. 2016; 223(1):134-40. PubMed PMID: 27282965

Yang J, Jones MS, Ramos RI, Chan AA, Lee AF, Foshag LJ, Sieling PA, Faries MB, Lee DJ. Insights into Local Tumor Microenvironment Immune Factors Associated with Regression of Cutaneous Melanoma Metastases by <i>Mycobacterium bovis</i> Bacille Calmette-Guérin. Frontiers in oncology. 2017; 7:61. PubMed PMID:
28424760, PMCID: PMC5380679

Lardone RD, Chan AA, Lee AF, Foshag LJ, Faries MB, Sieling PA, Lee DJ. Mycobacterium bovis Bacillus Calmette-Guérin Alters Melanoma Microenvironment Favoring Antitumor T Cell Responses and Improving M2 Macrophage Function. Frontiers in immunology. 2017; 8:965. PubMed PMID: 28848560, PMCID: PMC5554507

Complete List of Published work in My Bibliography:
Patents
Lee DJ, Xuan C. Methods of diagnosing and treating cancer by detecting and manipulating microbes in tumors. PCT/US13/78550, 14145853, filed December 31, 2013.