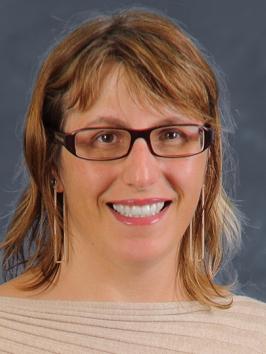 Michelina Iacovino, PhD
Investigator, The Lundquist Institute
Assistant Professor of Pediatrics, Division of Medical Genetics, David Geffen School of Medicine at UCLA
Development of vascular endothelium and stem cell therapies
Research Description
Dr. Iacovino's laboratory is interested in developing stem cell therapies for rare genetic disorders that affect brain function. They are currently investigating the proof of concept to use Neuronal Stem Cell (NSC) derived from induced Pluripotent Stem Cells (iPSC) as a delivery tool for a missing protein into the brain. They are testing this approach for 2 rare genetic disorders: Sanfilippo B and Pitt Hopkins syndrome. Sanfilippo B is caused by a genetic mutation in a lysosomal enzyme (NAGLU) that is needed for heparan sulfate degradation. Pitt Hopkins syndrome is caused by a mutation in a transcription factor (TCF4) needed for neurodevelopment. We are also developing a brain organoid system to model Pitt Hopkins syndrome and understand how the missing protein impact brain development.

Dr. Iacovino is also interested in understanding the role of Hox Genes, essential transcription factors for organogenesis, in the developing heart and blood system. One project founded in the lab aims at understanding the role of HoxA3 during Cardiac Development. The other project in the lab regards the generation of HSC during development. Pluripotent Stem cell therapy is a future solution but is still unclear the mechanism governing HSC generation from embryonic tissue.

Education
PhD, 2004, University of Molise, Campobasso, Italy
Recent and/or Significant Publications
S. Le, S. Kan, D. Clarke, V. Sanghez, M. Egeland, K. Vondrak, T. Doherty, M. Vera, M. Iacovino, J. Cooper, M. Sands, P. Dickson: "A humoral immune response alters the distribution of enzyme replacement therapy in murine mucopolysaccharidosis type I". 2017 In Press Molecular Therapy - Methods & Clinical Development.
V. Sanghez, A. Luzzi, D. Clarke, D.P. Kee, S. Beuder, D. Rux, M. Osawa, T-F Chou, M. Kyba M. Iacovino "HoxA3 Induces Ligand cis-Inhibition of the Notch Pathway to Arrest Endothelial to Hematopoietic Transition (EHT)". Plos One 2017 Oct 26;12(10):e0186818.
Liu J, Guo B, Chen Z, Wang N, Iacovino M, Cheng J, Roden C, Pan W, Khan S, Chen S, Kyba M, Fan R, Guo S, Lu J. "miR-125b promotes MLL-AF9-driven murine acute myeloid leukemia involving a VEGFA-mediated non-cell-intrinsic mechanism". Blood 2017.
Gong M, Antony S, Sakurai R, Liu J, Iacovino M, Rehan VK. "Bone Marrow Mesenchymal Stem Cells of the Intrauterine Growth Restricted Rat Offspring Exhibit Enhanced Adipogenic Phenotype". Int J Obes (Lond) 2016.
Zhang, X., Gui, L, Zhang, X, Bulfer, S.L., Sanghez, V. Wong, D., Lee, Y., Lehmann, L., Lee, S.L. Shih, P.Y., Lin, H.J., Iacovino, M., Weihl, C.C., Arkin, M.R., Wang, Y., Chou, T.-F. "Altered cofactor regulation with disease associated p97/VCP mutations. Proc Natl Acad Sci USA 2015 112(14):E1705-14.