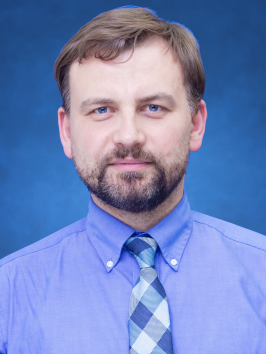 Mykola Onyshchenko, MD, PhD
Investigator, The Lundquist Institute
Assistant Professor, David Geffen School of Medicine at UCLA
Division of Hematology and Oncology, Department of Medicine, Harbor-UCLA Medical Center
Research Description
Dr. Mykola Onyshchenko is a physician-scientist specializing in the treatment of lung and cutaneous cancers, as well as tumors of the head and neck.

Dr. Onyshchenko earned his combined MD and PhD degree from Kharkov Medical University. He conducted research during his postdoctoral fellowship at the National Institutes of Health studying gene-targeted radiotherapy. Subsequently, he completed his Internal Medicine residency at Cleveland Clinic and Hematology-Oncology fellowship at UCLA where he worked with the pioneering research group in cancer immunology and immunotherapy.

Dr. Onyshchenko is a Principal Investigator in clinical trials. His clinical and research focus includes immuno-oncology, targeted therapies, and precision oncology. He has several active translational research projects in collaboration with laboratories at The Lundquist Institute. He actively mentors medical students, residents, and fellows in research projects. Dr. Onyshchenko is the Clinical Trial Lead in Medical Oncology at Harbor-UCLA. He is a member of the American Society of Clinical Oncology, American Association of Cancer Research, and Society for Immunotherapy of Cancer.

Education
MD, PhD, 2005, Kharkov Medical University
Internal Medicine Residency, Clevelend Clinic, OH
Hematology-Oncology Fellowship, UCLA, CA
Recent and/or Significant Publications
Onyshchenko M. The Puzzle of Predicting Response to Immune Checkpoint Blockade. EBioMedicine. 2018 Jul; 33: 18–19.
Graham DS, Onyshchenko M, Eckardt MA, DiPardo BJ, Venigalla S, Nelson SD, Chmielowski B, Singh AS, Shabason JE, Eilber FC, Kalbasi A. Low rates of chemotherapy utilization for primary high-grade soft tissue sarcoma: A National Cancer Database Analysis. J Natl Compr Canc Netw. Accepted for publication February 2020.
Randhawa J, Onyshchenko M. Acute encephalopathy secondary to dabrafenib and trametinib in BRAF-positive metastatic adenocarcinoma of the lung. J Oncol Pharm Practice. 2018; (0) 1-3
Onyshchenko MI, Panyutin IG, Panyutin IV, Neumann RD. Stimulation of cultured h9 human embryonic stem cells with thyroid stimulating hormone does not lead to formation of thyroid-like cells. Stem Cells Int. 2012;2012:634914. doi:10.1155/2012/634914
Onyshchenko MI, Gaynutdinov TI, Englund EA, Appella DH, Neumann RD, Panyutin IG. Quadruplex formation is necessary for stable PNA invasion into duplex DNA of BCL2 promoter region. Nucleic Acids Res. 2011;39(16):7114‐7123. doi:10.1093/nar/gkr259