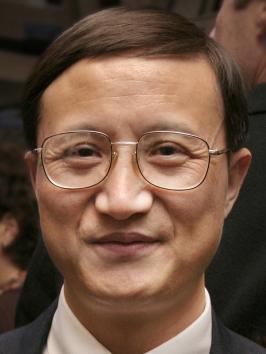 Sheng-Xing Ma, MD, PhD
Investigator, The Lundquist Institute
Professor in Residence of Obstetrics and Gynecology, David Geffen School of Medicine at UCLA
Biochemistry and physiology of nitric oxide
Research Description
Dr. Ma's laboratory utilizes a multidisciplinary approach ranging from physiology/pharmacology, biochemistry, molecular biology, and histochemistry to integrative research in both animal models and human studies. Working in the area of nitroglycerin pharmacology and nitric oxide (NO) physiology for two decades, his research is primarily focused on NO-cGMP signal transduction pathways and physiological studies on the following areas:

1) Biocapture of biomolecules over skin regions as a translational tool to quantify changes in biomolecules accompanied by physiological modifications and pathological alterations with diseases, and interactions between somatic meridian and visceral functions
2) Investigate the therapeutic effects and mechanisms of acupuncture, electroacupuncture, slow breathing exercises and slow breathing related mind-body practices (meditation/qigong/yoga) on pain relief, hypertension and weight control.


Education
MD, 1976, Sun Yat-Sen University of Medical Sciences, Guangzhou, China
MS, 1982, China Academy of Chinese Medical Sciences, Beijing, China
PhD, 1991, University of Iowa, College of Medicine, Iowa City, IA
Recent and/or Significant Publications
Ma, S.X.: Nitric oxide signaling molecules in acupoints: toward mechanisms of acupuncture. Chin. J. Integr. Med. 23 (11):812-815, 2017.
Ma, S.X., Lee, P., Anderson T.L., Li, X.Y., and Jiang, I.: Response of local nitric oxide release to manual acupuncture and electrical heat in humans: Effects of reinforcement methods. Evid. Based Complement. Alternat. Med., 2017, Article ID 4694238, https://doi.org/10.1155/2017/4694238
Ma, S.X., Lee, P., Jiang, I., Ma, E., Hu, J., and Li, X.Y.: Influence of age, gender, and race on nitric oxide release over acupuncture points-meridians. Scientific Reports, 2015, doi:10.1038/srep17547.
Ma, S.X., Peterson, R.G., Magee, E.M., Lee, P., Lee, W.P., and Li, X.Y.: Impaired expression of neuronal nitric oxide synthase in the gracile nucleus is involved in neuropathic changes in Zucker Diabetic Fatty rats with and without 2,5-hexanedione intoxication. Neurosci. Res., 2015, doi:10.1016/j.neures.2015.10.007.
Ma, S.X., Mayer, E., Lee, P., Li, X.Y., and Gao, E.Z.: Transcutaneous electrical stimulation increased nitric oxide-cyclic GMP release biocaptured over skin surface of the pericardium meridian and acupuncture points in humans. Acup. & Electro-Therapeutics Res., INT. J., 40:73-86, 2015.
Ji B., Hu J., and Ma, S.X.: Effects of electroacupuncture Zusanli (ST36) on food intake and expression of POMC and TRPV1 through afferents-medulla pathway in Obese Prone Rats. Peptides. 39:188-194, 2013
Hu, J., and Ma, S.X.: Infrared heat treatment reduces food intake and modifies expressions of TRPV3-POMC in the dorsal medulla of Obese Prone rats. Int. J. Hyperthermia. 27:708-716, 2011.
Ma, S.X., Li, X.Y., Smith B.T., and Lim, N.: Changes in nitric oxide, cGMP, and nitrotyrosine concentrations over skin along the meridians in obese subjects. Obesity 19:1560-1567, 2011.