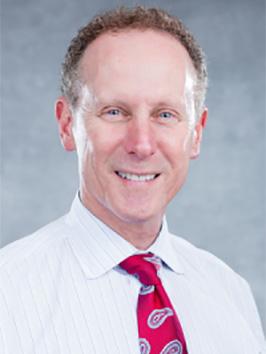 Eric Daar, MD
Investigator, The Lundquist Institute
Interim Chair, Department of Medicine at Harbor-UCLA Medical Center
Chief, Division of HIV Medicine at Harbor-UCLA Medical Center
Professor of Medicine, David Geffen School of Medicine at UCLA
Management and Immunopathogenesis of HIV infections and its complications
Research Description
Dr. Daar's research focuses on management and therapy for HIV infections, the immunopathogenesis and neuropathogenesis of primary and chronic HIV infection and the long-term complications patients face living with HIV and antiviral drugs. Additionally, he studies the area of HIV testing, linkage and retention of patients into care and prevention strategies as well as the management of HCV infection.
Education
MD, 1985, Georgetown University School of Medicine
Recent and/or Significant Publications
Lehmann DS, Ribaudo HJ, Daar ES, Gulick RM, Haubrich RH, Robbins GK, de Bakker PIW, Haas DW, McLaren PJ. Genome-wide association study of virologic response with efavirenz or abacavir-containing regimens in AIDS Clinical Trials Group Protocols. Pharacogenetics and Genomics 2015; 25:51-59 [PMID: 25461247][PMCID: PMC4387236].
Moore BA, Rosen MI, Wang Y, Shen J, Ablondi K, Sullivan A, Guerrero M, Siqueiros L, Daar ES, Liu HH. A remotely delivered CBT and contingency management therapy for substance using people with HIV. AIDS Behav 2015; 2:156-162. [PMID: 25645326]
Gallant J, Daar ES, Raffi F, Brinson C, Ruane P, DeJesus E, Johnson M, Clumeck N, Osiyemi O, Ward D, Morales-Ramirez J, Yan M, Abram M, Plummer A, Cheng A, Rhee M. Efficacy and safety of tenofovir alafenamide versus tenofovir disoproxil fumarate given as fixed-dose combinations containing emtricitabine as backbones for treatment of HIV-1 infection in virologically suppressed adults: a randomized, double-blind, active-controlled phase 3 trial. Lancet HIV 2016, e158-165 [PMID: 27036991]
Metsch LR, Feaster DJ, Gooden L, Matheson T, Stitzer M, Das M, Jain MK, Rodriguez AE, Armstrong WS, Lucas GM, Nijkawan AE, Drainoni M-L, Herrera P, Vergara-Rodriguez P, Jacobson JM, Mugavero MJ, Sullivan M, Daar ES, McMahon DK, Ferris DC, Lindblad R, VanVeldhuisen P, Oden N, Castellon PC, Tross S, Haynes JF, Douaihy A, Sorensen JL, Metzger DS, Mandler RN, Colfax GN, de Rio C. Efficacy of patient navigation with or without contingency management on viral suppression among hospitalized HIV-infected substance users: The HOPE randomized clinical trial. JAMA 2016; 316:156-170 [PMID: 27404184]
Wyles D, Brau N, Kottilil S, Daar ES, Ruane P, Workowski K, Luetkeymeyer A, Adeyemi O, Doehle B, Huang KC, Osinusi A, McNally J, Brainard DM, McHutchison JG, Naggie S, Sulkowski M, for the ASTRAL-5 Investigators. Sofosbuvir and Velpatasvir for the treatment of HCV in patients coinfected with HIV-1: an open-label, phase 3 study. Clin Infect Dis 2017, Epub ahead of print [PMID: 28369210].