For Detecting the Harmful Effects of HIV and Improving the Lives of COPD Patients, The Lundquist Institute Honors Two Physician-Scientists for Groundbreaking Research
Leading Biomedical Innovators Honored at The Lundquist Institute Legends Celebration 2019
Wednesday, November 13, 2019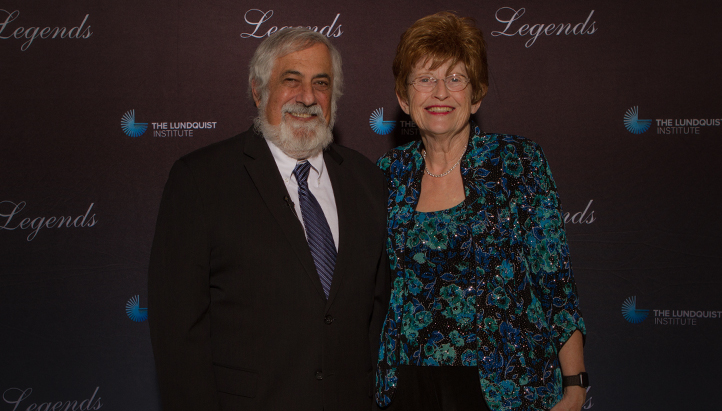 LOS ANGELES – The Lundquist Institute, one of the nation's leading nonprofit biomedical research institutes, hosted its 16th Annual Legends celebration on November 12 honoring two highly distinguished researchers for their groundbreaking innovations and outstanding service in finding solutions to the most pressing medical problems of our day.
The Lundquist Institute honored Drs. Margaret A. Keller and Richard Casaburi as "Legends" at the annual event, which was held on the Institute's campus at the Harbor-UCLA Medical Center, in its new four-story, 78,000-square-foot Medical Research Laboratory building. The honorees were joined by over 100 attendees including past Legends Drs. Arnold Bayer, Sherwin Isenberg, Jerome Rotter, Christina Wang and Rodney White among others. 
Drs. Keller and Casaburi work as investigators at The Lundquist Institute developing medical breakthroughs using new magnetic resonance imaging (MRI) tools to detect the harmful effects of HIV on the central nervous system of perinatally HIV-infected youth as well as interventions designed to improve the lives of chronic obstructive pulmonary disease (COPD) patients. They are also longtime UCLA School of Medicine faculty members and have each published hundreds of papers in the medical literature.
Margaret A. Keller, MD
Dr. Keller served as the Director of the Program for Pediatric HIV, Chief of the Division of Pediatric Infectious Diseases, and Chair of the Bioethics Committee at Harbor-UCLA Medical Center. She is also a Professor of Pediatrics at the David Geffen School of Medicine at UCLA. 
After seeing so many children suffer neurologic consequences of HIV infection, she became dedicated to using non-invasive tools for detecting the harmful effects of HIV in perinatally-infected children as they mature to adulthood. There is a critical need for earlier detection of HIV brain damage in order to minimize the harm to these youth. Working in collaboration with Dr. Albert Thomas' imaging group at UCLA, Dr. Keller has applied several new MRI techniques, enabling more sensitive detection of the harmful effects of HIV on the brain. She also was an investigator in a successful effort to determine the best way to prevent transmission of HIV from the HIV-infected mother to her baby.
Dr. Keller holds a M.D. from the Albert Einstein College of Medicine in New York City. She lives in Rancho Palos Verdes.
Richard Casaburi, PhD, MD
Dr. Casaburi is the Medical Director of the Rehabilitation Clinical Trials Center at The Lundquist Institute, Associate Chief of Research for the Division of Respiratory and Critical Care Physiology and Medicine at the Harbor-UCLA Medical Center and is a member of the Board of Directors of the COPD Foundation. He is also a Professor of Medicine at the David Geffen School of Medicine at UCLA.
He is an internationally renowned expert on COPD, now the fourth leading cause of death in the United States. He has extensive experience in clinical trials evaluating interventions designed to improve the lives of COPD patients. Exercise testing and training are major areas of his laboratory's expertise.  With pulmonary rehabilitation as a major focus, his work has been a key driver in the establishment of the physiologic basis of rehabilitative strategies for COPD patients.  For the past 25 years he has been President of the Pulmonary Education and Research Foundation (PERF) a South Bay-based Foundation focused on promoting pulmonary rehabilitation. He first came to this campus in 1973 and since then has published more than 325 papers and 300 abstracts.  He has been site investigator in three major NIH-funded clinical research networks and has conducted over 75 clinical trials.  
Dr. Casaburi holds a B.S., M.Eng., and a Ph.D. in Biomedical Engineering from the Rensselaer Polytechnic Institute, as well as an M.D. from the University of Miami. He is a long-time Rancho Palos Verdes resident.
"We congratulate these two distinguished investigators on a lifetime of accomplishments in the field of medicine and research," said David Meyer, President and CEO of The Lundquist Institute. "Both have been leaders in their field of medicine, and both have built a legacy of innovation and discovery."