LA BioMed Celebrates Launch of Campus Transformation
Thursday, May 7, 2015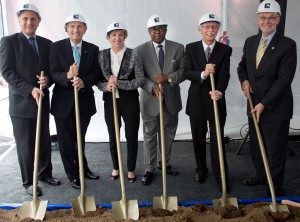 And Historic Donation to Kick off Capital Campaign. Research Institute to Celebrate its Biggest Donation Ever.
LOS ANGELES – (May 6, 2015) – Los Angeles Biomedical Research Institute (LA BioMed) celebrated the launch of its campus transformation with a groundbreaking ceremony Wednesday and announced its largest-ever donation — $3 million from Board Member Joan Hood Jones. The donation kicks off the Capital Campaign to replace some of the institute's aging buildings with state-of-the-art facilities.
Jones is a former Manhattan Beach mayor and council member. She joined LA BioMed's Board of Directors just eight months ago and said she had never before made a gift of this magnitude. She said she decided to make the donation to support the inspiring research at LA BioMed.
"I believe strongly in their vision and their purpose," Jones said during the ceremony. "The research done here really makes a difference not only in our community but around the world. For the last decade, LA BioMed has been on the cutting edge of bringing innovative changes in the world of medicine."
Philanthropists Richard and Melanie Lundquist donated $1 million for the campus transformation, which will create a more collaborative research environment. It will create new walkways, greenspace, a pavilion and other amenities to bring researchers together. Richard Lundquist joined Jones, LA County Supervisor Mark Ridley-Thomas, LA BioMed Board Chair Steven Nissen and LA BioMed President and CEO David I. Meyer, PhD, in a ceremonial groundbreaking for the campus transformation.
"This is really a special day in the history of LA BioMed," Richard Lundquist said. "It is the first day in the rebirth of this fabulous institution."
Ridley-Thomas said LA BioMed is "leading the way" in making Los Angeles County a "leading source" of bioscience-related jobs. "There is no one doing it better in Los Angeles County than what is happening here."
Meyer praised Ridley-Thomas' support for LA BioMed and his leadership in seeking to create a biosciences cluster adjacent to LA BioMed. He said the campus transformation will be the "first step in our plan to assure the campus and our facilities reflect the cutting edge research that goes on here every day."
Nissen, who has served on the LA BioMed board for a decade, said Jones' donation will lead to others contributing to the Capital Campaign to create the research facilities that will attract and retain the most talented researchers. While the research institute has several modern buildings, many of its 100 researchers still work in World War II-era barracks. The Capital Campaign seeks to raise the money to replace those barracks with new research facilities.
The groundbreaking ceremony took place in a parking lot that will be transformed into a pavilion and park. The Bishop Montgomery High School marching band provided music for the celebration, and guests viewed drawings of the campus transformation plans and scale model of the plans at a reception after the ceremony.