LA BioMed Holds Grand Opening of World-Class Medical Research Building
$63-million, four-story, 78,000 square-foot facility is one of the most advanced in the country
Monday, April 1, 2019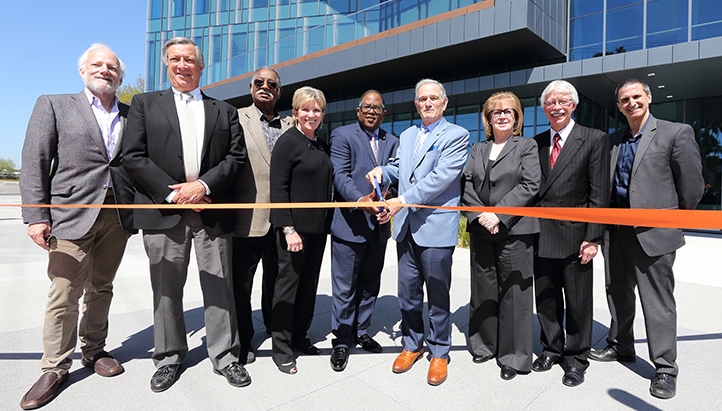 LOS ANGELES — The Los Angeles Biomedical Research Institute (LA BioMed) today held the grand opening of its new state-of-the-art medical research building and bioscience incubator on its campus at Harbor-UCLA Medical Center in Torrance.
"The opening of our new medical research building is a milestone for LA BioMed," said David Meyer, PhD, President and CEO, LA BioMed. "It will allow us to recruit and retain the best investigators, giving them world-class labs and work spaces where they can develop new treatments and therapeutics for years to come."
The $63-million, four-story, 78,000 square-foot facility is one of the most advanced medical research buildings in the country. It contains both wet and dry labs, freezer farms, an auditorium that can seat over 150 people, and an 18,000 square-foot bioscience incubator operated by BioLabs, called BioLabs LA BioMed, that can host up to 30 bioscience startups and offers $1 million in shared equipment, private offices and meeting space.
"LA BioMed's new research facility, with its state-of-the art bioscience incubator, holds the promise of medical advances and discoveries that can transform the way we diagnose and treat diseases, potentially saving lives," said Supervisor Mark Ridley-Thomas. "And it is only one of many initiatives currently under way to make Los Angeles County a world leader in bioscience."
LA BioMed has a track record of successfully commercializing discoveries, having spun off 13 startups in the last 12 years. Those include Emmaus Medical, which has developed a treatment for sickle cell disease that is approved by the Food and Drug Administration, and NovaDigm Therapeutics, which is developing vaccines for fungal and bacterial infections commonly contracted at hospitals. The institute has also licensed products to two publicly-traded companies, including Kybella, a popular injectable treatment that removes fat from under the chin.
Philanthropists Melanie and Richard Lundquist donated $3 million toward the construction of the building—specifically, the buildout of the incubator. Supervisor Ridley-Thomas provided $3 million in County funds towards the construction of the building's incubator on County-owned land, as well as $1 million in operating expenses, demonstrating his commitment to turning Los Angeles into a top-tier bioscience cluster. The U.S. Department of Commerce, Economic Development Administration also provided $800,000 for equipment for the bioscience incubator.
"When I initially visited LA BioMed almost a decade ago, I was amazed by the lifesaving innovations taking place, despite extremely modest facilities," said Richard Lundquist, CEO and owner of Continental Development Corporation. "I am proud to have taken an active role in the design and development of this new building, and nobody deserves a state-of-the-art new home more than Dr. Meyer and LA BioMed's investigators and staff."
Meyer, Ridley-Thomas and Lundquist spoke at the opening, along with LA BioMed Chairman of the Board Dan Rosenfeld and BioLabs Chief Operating Officer Susie Harborth. The ribbon cutting was preceded by the dedication of a ceremonial walkway with commemorative bricks honoring some of LA BioMed's "Legends," including Dr. John Michael Criley, the inventor of paramedic training protocol.
Earlier this year, the Lundquists announced a $70 million gift to LA BioMed that will help the institute undertake more discoveries and launch many more companies that will meaningfully boost Southern California as a biotech center. As a result of the gift, LA BioMed will be renamed the Lundquist Institute in the near future.