LA BioMed Researcher to Receive Young Investigator Award
Monday, August 10, 2015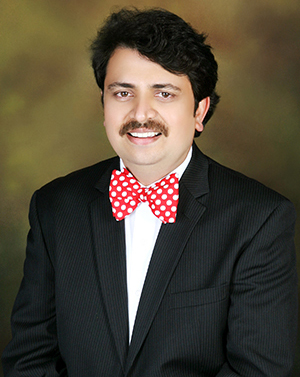 Honored for Work in Infectious Disease Research 
LOS ANGELES – (August 10, 2015) – Nagendra Mishra, PhD, a Los Angeles Biomedical Research Institute (LA BioMed) researcher will be honored by the American Society of Microbiology with a 2015 Interscience Conference of Antimicrobial Agents and Chemotherapy (ICAAC) Young Investigator Award during the conference Sept. 17-21 in San Diego.                         
The award recognizes early career scientists for research excellence and potential in microbiology and infectious disease. Dr. Mishra earned his PhD in biochemistry from the University of Allahabad in India. He completed his post-doctoral training in infectious diseases at LA BioMed.
"Congratulations to Dr. Mishra for this award," said David I. Meyer, PhD, LA BioMed president and CEO. "Dr. Mishra is emblematic of the young investigators who are breaking new ground in infectious diseases and other fields. They are the future of LA BioMed and the research enterprise."                                           
Dr. Mishra's research focuses on the growing health issue of antimicrobial resistance, which threatens the effective prevention and treatment of an ever-increasing range of infections caused by bacteria, parasites, viruses and fungi. He has recently identified adaptations associated with lipid membranes of Candida, Staphylococci, Enterococci and Streptococci that confer resistance to certain antibiotics in vitro and in vivo.
He also discovered the significance of Staphylococcal carotenoid augmented membrane fluidity/rigidity and   its implications in resistance to host defense peptides and in vivo virulence in an endocarditis model. Further understanding microbial adaptation to the host in the setting of anti-infective agents aims to open new doors to anti-infective strategies addressing the current challenge of conventional antibiotic resistance.
He has contributed more than 25 research articles, reviews and chapters in peer-reviewed journals.  Dr. Mishra received a Young Investigator grant from LA BioMed and has research funding from pharmaceutical companies.