Leonard Nimoy Documentary Makers Enlist LA BioMed Researcher
Sunday, April 12, 2015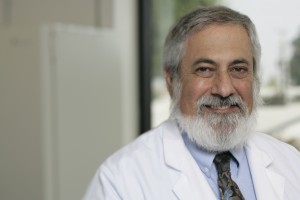 Actor's Daughter Seeking Expertise for Video to Help COPD Patients   
LOS ANGELES – (April 13, 2015) –The daughter of the late actor Leonard Nimoy announced today that Richard Casaburi, PhD, MD, a lead researcher at the Los Angeles Biomedical Research Institute (LA BioMed), will serve as the medical advisor on a documentary she is developing to help chronic obstructive pulmonary disease (COPD) patients. Nimoy, who was best-known as the character Spock in the "Star Trek" series, died Feb. 27 from complications associated with COPD. "In retrospect, we believe my father would have greatly benefitted from new information on the latest treatment options available," said Nimoy's daughter, Julie Nimoy. "As a special tribute to my father and to bring more information about COPD to light, I am pleased to announce that my fiancé, David Knight, and I are producing a new documentary film that is going to include the latest advances and treatments available today. Because of his considerable expertise, we are grateful that Dr. Casaburi has agreed to serve as medical adviser for this project." For more than two decades, Dr. Casaburi has been widely recognized as one of the leaders in COPD research. He holds the Alvin Grancell/Mary Burns Endowed Chair in the Rehabilitative Sciences at LA BioMed and leads its pulmonary rehabilitation research. He has received many honors for his work and has served as president of the Pulmonary Education and Research Foundation, a non-profit corporation dedicated to advancing the scientific basis and practice of pulmonary rehabilitation. He has delivered more than 500 invited lectures and authored more than 260 publications and 240 abstracts.
"COPD is the third most common cause of death in the United States today," Dr. Casaburi said. "Despite this, it is both underdiagnosed and undertreated. The COPD Film Project will raise awareness of this illness and help those stricken with it to take advantage of medical advances that have the potential to improve their lives. We hope this film will be a fitting tribute to Leonard Nimoy, who accomplished so much in his life despite being afflicted by COPD."
Knight, the documentary's executive producer, said the documentary will also include the accounts of patients who will describe how they have managed their COPD symptoms to achieve a more fulfilling life.
"Our goal is to educate the public and help those living with the symptoms of COPD by providing timely and important information about the latest in therapies and treatments for this disease," he said.
COPD is characterized by a number of symptoms, including shortness of breath, activity limitation, respiratory infections and general fatigue. Medical experts agree that cigarette smoking is the No. 1 cause of this condition. Other risk factors include exposure to certain gases or fumes, large amounts of secondhand smoke and air pollution. In rare cases, nonsmokers can also develop COPD due to lack of a protein, which is called alpha-1 antitrypsin deficiency or A1AD. COPD affects more than 24 million Americans, including 1.6 million Californians, costing an estimated $50 billion a year.
About Health Point Productions, LLC
Health Point Productions is a Los Angeles-based company designed to produce, market and sell quality documentaries to specialized health markets. The staff at Health Point Productions is composed of talented and experienced film-making professionals. Its script personnel develop and edit films designed to meet the needs of specific audiences, and its production staff produce documentaries primed for market attention. Its marketing and sales people provide effective distribution, promotion and continuing sales. Health Point Productions believes educating consumers and healthcare professionals is of critical importance in today's increasingly complicated healthcare environment. For more information, please contact David Knight, 818-788-4905, info@copdfilm.com