Lundquist Investigator Dr. Marc Swidergall's Paper Published in Nature Communications
IL-23 receptor signaling prevents ferroptotic cell death via an unknown mechanism. 4HNE released by ferroptotic macrophages induces apoptosis, ferroptosis, necroptosis, and pyroptosis in adjacent cells.
Thursday, September 29, 2022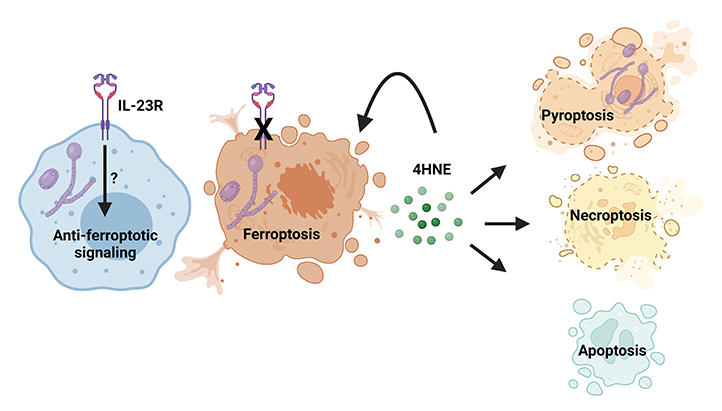 Dr. Marc Swidergall's paper, "IL-23 signaling prevents ferroptosis-driven renal immunopathology during candidiasis," has been published in Nature Communications. The paper, published online on September 22, covers research by Dr. Swidergall and his colleagues on Candida infection and inflammation and how ferroptotic cell death presents a new avenue to tackle the infection. They report that recognition of the fungal cell wall component β-glucan promotes renal immunopathology by reducing the cytokine IL-23 during disseminated candidiasis. The researchers' analyses reveal that IL-23 signaling averts inflammatory ferroptosis in host cells to improve disease outcomes during invasive fungal infection.

"This is the first study to discover that the specific host cell death ferroptosis promotes disease progression during disseminated Candida infection," says Dr. Swidergall. "Understanding basic concepts of immunity and pathogenicity lays the foundation for the development of novel therapies in the future. Importantly, targeting this cell death with inhibitors or by recombinant cytokine therapy protected mice from candidiasis pointing to the translational potential against this lethal fungal infection."

The paper can be found here.