PTSD After Wildfires Can Be Reduced with Early Triage Technology
The Lundquist Institute research offers lessons for communities from California to Australia
Thursday, January 23, 2020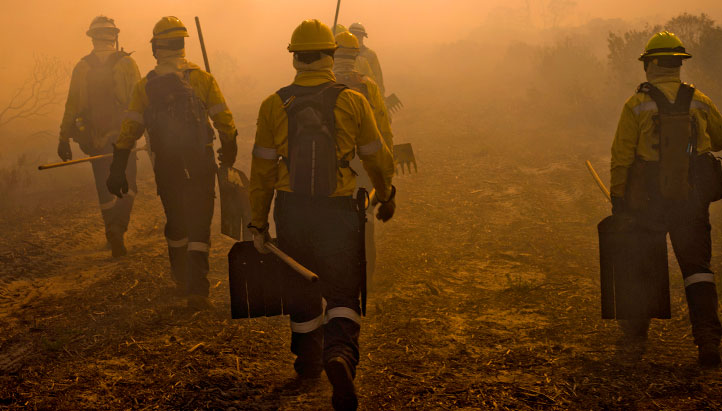 LOS ANGELES — An investigator from The Lundquist Institute has demonstrated a way to limit the effects of post-traumatic stress disorder in those affected by wildfires through early intervention and triage using a web-based app, providing valuable insight for medical professionals and first responders dealing with the aftermath of another devastating fire season.
Dr. Merritt Schreiber, an investigator at The Lundquist Institute who specializes in pediatric trauma psychology was one of several experts selected to participate in a National Academy of Medicine workshop on the California wildfires in June. Findings from the workshop were published in a paper titled "Implications of the California Wildfires for Health, Communities, and Preparedness: Proceedings of a Workshop" from the National Academies of Sciences, Engineering, and Medicine published in December.
 
In his presentation, Schreiber described an "untapped preventative window" to reduce the effects of disasters, which he called the "golden month".  As the incidence of disorders such as PTSD and depression can jump by up to 40% following a disaster, per Schreiber's presentation, working to mitigate these effects early is paramount—particularly given the fact that eight of the ten largest wildfires in California history have occurred since 2000. Moreover, children are the group with the highest risk of developing these disorders, which can affect them for an extended period. Early intervention holds the promise to reduce these impacts on children, adults and responders alike.
 
Schreiber, who created the PsySTART Rapid Mental Health Triage and Incident Management System for rapid identification of at-risk victims and emergency responders in mass casualty events that can identify those with the highest risk of developing PTSD. Using the PsySTART web app, people without medical training can enter information about what is happening to people, instead of what they are feeling. It takes less than 2 minutes to triage each person.
"Symptoms are great indicators 30 to 45 days after the initial event, but they don't reliably discern who's at risk versus who's having expectable distress and likely resilience," Schreiber said. "With this tool, we can drill down into who needs what type of treatment to maximize recovery. When it comes to treating disaster victims, one size does not fit all." PsySTART has been used in the Northern and Southern California Wildfires, Superstorm Sandy, Sandy Hook School Shooting, Boston Marathon Terrorist Bombing  and Ft. Worth Church Active Shooter event among others.
Those deemed to be at high risk of developing PTSD are timely linked to an evidence-based intervention such as Trauma Focused Cognitive Behavior Therapy, if they need it and want it. The tool accurately measures risk, allowing medical professionals to connect those at various levels of risk with the proper form of "stepped triage to care" interventions. These findings can provide actionable intelligence for people in places from California to Australia, who are dealing with the fallout of historic wildfires.
"In California, we understand firsthand the devastating consequences of wildfires," said David Meyer, PhD, President and CEO of The Lundquist Institute. "Dr. Schreiber's critical work can help communities recover and provide guidance to medical professionals treating those impacted by fires."