International Multi-institutional Collab Unveils Molecular Basis of Pancreatitis
Thursday, April 28, 2022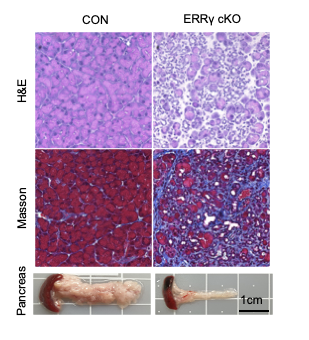 ERRγ deletion causes rapid and progressive pancreatic atrophy
H&E staining (upper panel) and Masson's trichrome staining (middle panel) of pancreas from control (CON) and ERRγ conditional Knock-out (cKO) cKO mice 7d after the ERR γ deletion.
Gross images of pancreas (lower panel)
Scientists from 13 different institutions (Lundquist Institute, KAIST, Salk Institute, Kyungpook National University Hospital, Daegu-Gyeongbuk Medical Innovation Foundation, Sunchon National University, Korea Brain Research Institute, Kyoto University, Kyushu University, University of Pittsburgh, Cedars-Sinai Medical Center, University of California-San Francisco, University of Sydney) in 4 different countries (USA, Korea, Japan, Australia) teamed up for a multi-institutional study on the molecular basis of pancreatitis. 
Pancreatic exocrine cells govern the daily conversion of food to primary energy resources such as glucose, fatty acids, or amino acids by the production and secretion of digestive enzymes into the gut. Pancreatic exocrine dysfunction causes inappropriate activation of these enzymes to digest its own tissues, resulting in pancreatitis, a painful and sometimes fatal inflammatory condition.
The study identified estrogen-related receptor γ (ERRγ), a master transcriptional factor for mitochondrial metabolic regulation, as the link between metabolic dysfunction and acute pancreatitis. Pancreatitis is the leading cause of pancreatic cancer or autoimmune diabetes; therefore, this finding contribute to a better understanding of etiology of pancreatic diseases.
Lundquist scientist Eiji Yoshihara, PhD, a co-senior author, and assistant professor in David Geffen School of Medicine at UCLA, said, "Unexpected animal phenotypes caused by genetic deletion of ERRγ allowed us to identify novel molecular mechanisms underlying acute and chronic pancreatitis, which is relevant in both mice and humans. Our results shed light on pancreatic metabolic control as a possible therapeutic target for human pancreatitis and related diseases such as diabetes"
"Mitochondria have been known to be the predominant source of energy production in the exocrine pancreas since the 1960s, but what controls this vital energy production program has been a mystery. Our study shows that ERRγ is not only an essential regulator of exocrine pancreas energy generation, but also of acinar cell identity and early-stage pancreatic cancer initiation," stated Dr. Jae Myoung Suh, PhD., a co-senior author and associate professor at Korea Advanced Institute of Science and Technology (KAIST).
Dr. Jinhyuk Choi, PhD, the study's first author, who recently received his doctorate from KAIST and will be joining the Yoshihara Lab as a postdoctoral fellow this summer, said, "Despite the fact that mitochondrial dysfunction in acinar cells has been reported in a range of exocrine pancreas pathologies, the mechanisms behind it are poorly understood. Our findings lay the groundwork for developing effective therapies to treat pancreatic exocrine disorders linked to mitochondrial dysfunction". 
The human genetic studies coordinated by Lundquist scientist Jerome I Rotter, MD, and his colleagues David C. Whitcomb, MD, PhD, Phil Greer, Brandon Blobner, PhD, Mark O. Goodarzi, MD, PhD, and Stephen J. Pandol, MD, from Ciders-Sinai and University of Pittsburgh, provided new evidence that altered regulation of the ERRγ gene in humans may affect the development of chronic pancreatitis.
 
The research was published in Gastroenterology: https://www.gastrojournal.org/article/S0016-5085(22)00369-9/pdf