LA BioMed Hosts its Fourth Annual Innovation Showcase
Wednesday, February 22, 2017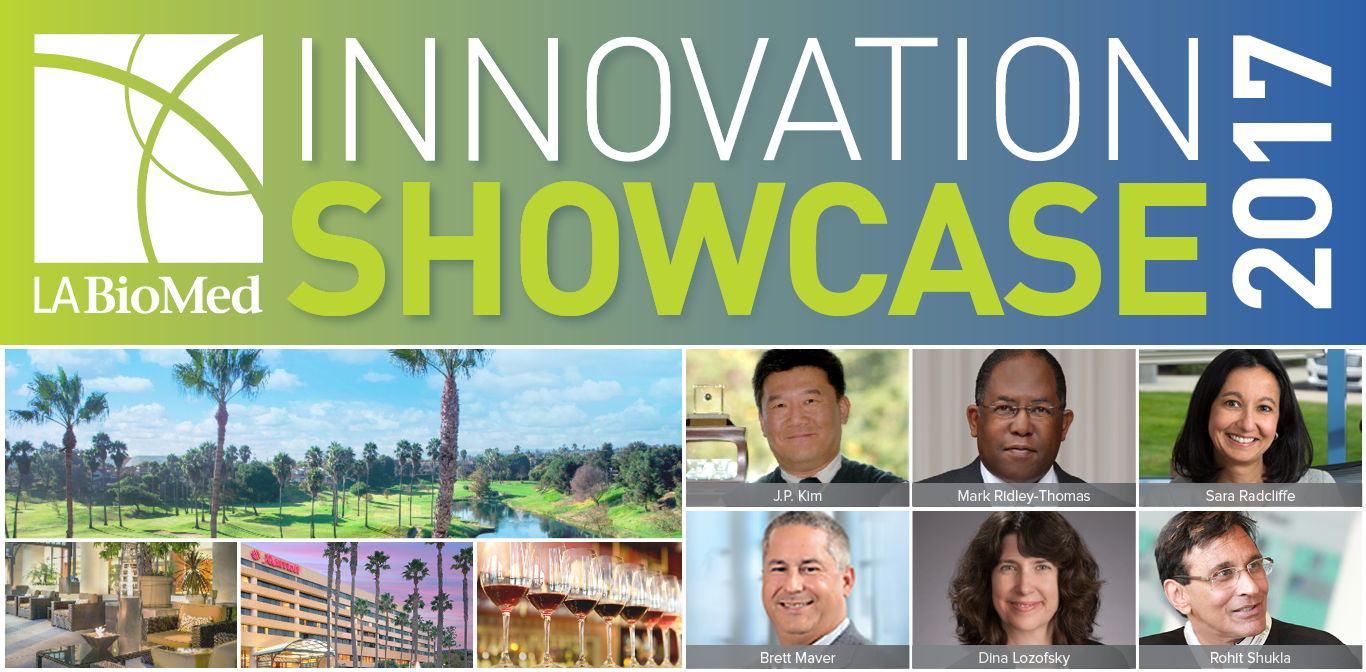 March 9 event features presentations of the latest in breakthrough technologies
On March  9, LA BioMed will host its Fourth Annual Innovation Showcase featuring a full day of break-through technology presentations and speakers that will address issues surrounding the commercialization of technologies.
The showcase at the Manhattan Beach Marriott is expected to attract more than 300 entrepreneurs, investors, executives from biotech and pharma medical devices companies, legal experts, service providers, prominent scientists and technology transfer personnel from premier academic institutions.
"LA BioMed is focused on the commercialization of its intellectual capital with over 600 issued and pending patents and ten start-up companies formed in the past five years," said Keith Hoffman, PhD, LA BioMed vice president of business development and technology transfer. "LA BioMed technologies have helped to generate numerous global medical breakthroughs including the invention of the modern cholesterol test, the conception and development of the modern-day U.S. paramedic model of emergency patient care, the first isolation and administration of a lung surfactant to treat premature babies, the FDA-approved drug Aldurazyme® for a Mucopolysaccharidosis, the development of low-cost antiseptic eye drops that prevented blindness in thousands of newborns in third-world countries and an FDA-approved drug to treat submental fullness. With the Innovation Showcase, LA BioMed is continuing our tradition of fostering new technologies and providing a networking platform for startups across California."
The Innovation Showcase will highlight the innovations developed by startup companies from prestigious research institutions throughout California, including LA BioMed, Biocom, California Life Sciences Institute, Cal State LA, Cedars-Sinai Medical Center, Children's Hospital Los Angeles, Lab Launch, Larta Institute, Pasadena Bioscience Collaborative, UC Irvine, UCLA, UC Riverside, UCSD, USC and more.
Speakers include Los Angeles County Supervisor Mark Ridley-Thomas, LA BioMed President and CEO David Meyer, NIH SBIR/STTR Program Manager J.P. Kim, Silicon Valley Bank Director Brett Maver, Biocom Executive Director Dina Lozofsky, California Life Science Association CEO Sara Radcliffe and Larta CEO Rohit Shukla.
The program will be followed by a reception featuring technology posters and a fine wine tasting hosted by Drs. Meyer and Hoffman. The event will take place from 8:30 a.m. to 6:30 p.m. at the Manhattan Beach Marriott, 1400 Parkview Ave, Manhattan Beach, CA 90266. To register for the event, please visit: https://www.eventbrite.com/e/la-biomed-innovation-showcase-2017-tickets-28706529001