LA BioMed Researchers Editorialize on New Breast Cancer Study in New England Journal of Medicine
Monday, June 6, 2016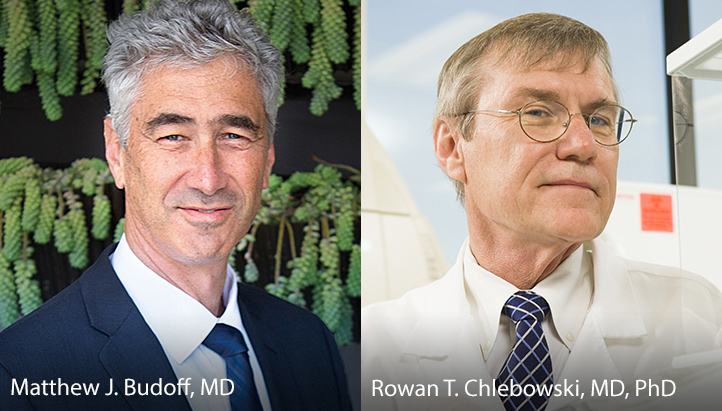 They Find Study "Reassuring" and Say it Has Lessons for Cardiologists and Oncologists
In an editorial in the New England Journal of Medicine, LA BioMed Researchers Rowan T. Chlebowski, MD, PhD, and Matthew J. Budoff, MD, said a new study of the long-term use of aromatase inhibitors to prevent the recurrence of certain types of breast cancer is "reassuring," and they urged oncologists and cardiologists to combine prevention and early detection to prevent disease.
"The beneficial effects of increasing disease-free survival, with a favorable toxicity profile for continuing the aromatase inhibitor letrozole for five additional years, are reassuring, and the findings have direct application for clinical practice," Drs. Chlebowski and Budoff said in their editorial published today.
The LA BioMed researchers were commenting on a new study in the Journal that found a further reduction in the risk of contralateral breast cancer recurrence after five more years of treatment with aromatase inhibitors. Current practice is to take the inhibitors for five years. The double-blind study examined the outcomes after 10 years of treatment.
Aromatase inhibitors stop the production of estrogen in postmenopausal women by blocking the enzyme aromatase, which turns the hormone androgen into estrogen in the body. This means that less estrogen is available to stimulate the growth of hormone-receptor-positive breast cancer cells.
Dr. Chlebowski is a medical oncologist who is best known for his work on significant clinical trials related to breast cancer prevention and therapy and women's health. Dr. Budoff is a cardiologist who's conducted extensive research into the prevention of heart disease and is the director of Cardiac CT at LA BioMed.
They said the reduction in new contralateral breast cancers after extended treatment with the aromatase inhibitor letrozole also invites comparisons between the approaches of oncologists and cardiologists to breast cancer and cardiovascular disease. They noted that the approach of oncologists to the treatment of cancer and of cardiologists to the treatment of cardiovascular disease is noteworthy because the two diseases share major risk factors and are leading causes of death in postmenopausal women.
"The use of mammography for the early detection of breast cancer is standard and widely implemented in clinical practice, but the use of chemoprevention for breast cancer receives scant attention from the oncology community," they wrote. "In contrast, cardiologists have focused on long-term prevention (by means of statins, blood pressure control, aspirin, and recommendations for diet and exercise) for an increasing proportion of the adult population.
"However, there is less focus on the early detection of cardiovascular disease, despite the availability of validated approaches with coronary-artery calcium scans, the use of which has widespread recommendation in guidelines from the American College of Cardiology and the American Heart Association. Perhaps each discipline could learn important lessons from the other."