The Obesity Paradox
Friday, August 15, 2014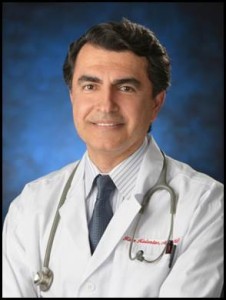 Kamyar Kalantar-Zadeh, the world's foremost expert on end-stage kidney disease, has followed his research to the controversial proposition that obesity might be a patient's best friend in the hour of greatest need.
Recent findings by Kalantar-Zadeh and some of his colleagues have landed him square in the middle of an "obesity paradox," which is the subject of sometimes heated debate among physicians, researchers and public health officials.
The controversial paradox concept, cheerfully defended by Kalantar-Zadeh, goes like this: while obesity is a clear cause of many serious illnesses, once people becomes seriously ill, obesity might be just the thing to save them from death.
And on top of that, the paradox defenders say, obesity might be helping healthy people live longer than their "normal-weight" counterparts.
Kalantar-Zadeh, of Rancho Palos Verdes, is a physician-researcher who divides his time between seeing patients, teaching medicine and public health at UC Irvine, and conducting research through the highly regarded Los Angeles Biomedical Research Institute. The institute is located near the foot of the Peninsula, on the UCLA-Harbor General Medical Center campus.
Sharon Adler, an LA BioMed researcher and division chief of nephrology (the study of kidneys) at Harbor-UCLA Medical Center, said Kalantar-Zadeh is "the most published and referenced nephrologist in the world."
Expertscape recently named him the world's top expert in end-stage kidney disease, when the patient needs dialysis or a transplant to stay alive.
Over the last year, Kalantar-Zadeh has led a controversial meta-analyses of large populations, both sick and healthy. The analyses have put people's weight in a new light.
Kalantar-Zadeh does not encourage people to rush to the dessert table. Obesity causes heart disease, cancer and other fatal ailments, and diminishes the quality of life. But the weight question might be more nuanced than previously thought.
His report's findings challenge the "black and white model" of big versus small bodies, he said.
Fat and the kidney
In a report to the National Institutes of Health on Kalantar-Zadeh's sub-specialty, he and other researchers made the case that an obese body can help a patient survive end-stage kidney disease.
"You could think of obesity as a friend who is a bad influence on you, and people say 'don't hang around with him.' But you do anyway, and he gets you both thrown in prison. Then, once you are in prison, he is the one who can protect you from this environment," Kalantar-Zadeh said.
One in every five end-stage kidney disease patient dies within the first year, but a meta-analysis by the researchers shows that "the larger you are, the bigger and larger and more obese you are, the longer you survive," Kalantar-Zadeh said.
The researchers noted that this obesity paradox "in no way undermines the fact that obesity is a risk factor" in the development of coronary artery disease, heart failure, chronic kidney disease, end-stage [kidney] disease and cancer. In addition, they wrote, obesity causes diseases in old age, and "is clearly associated with poor health-related quality of life."
"In the face of an overwhelming association between obesity and disease prevalence, it is even more intriguing that obesity is associated with a survival advantage once an individual acquires the disease," the researchers wrote.
Kalantar-Zadeh said more study is needed to understand the link between a large body mass and end-stage survival.
For instance, is the link stronger for some ethnic or socioeconomic groups than it is for others? And must the patient's body be large with fat, or can it be large with muscle?
"That is the knowledge gap," he said.
Other research has shown that having a large body might aid survival in people being treated for traumas such as heart attacks and traffic accident injuries, he said.
Fat and the healthy human
Kalantar-Zadeh said the obesity paradox has become "highly provocative" with recent findings by him and other researchers that even among healthy people, the overweight ones might be living longer.
That is the conclusion of a report he co-authored with lead researcher Katherine Flegal, a senior scientist at the Centers for Disease Control and Prevention, following a notably large meta-analysis of longevity among the sick and the healthy.
Researchers concluded that further distinctions might be made between the dangers of belly fat versus overall body fat, or the guidelines for healthy body mass index – the relation between height and weight – might need to be revised.
Although Kalantar-Zadeh holds a master's degree and a recent teaching post in public health, his colleagues in that field sometimes shrink from his recent fat findings.
"Some of my colleagues think I am making it hard for them," he said.
But, he said, researchers must follow their findings wherever they lead.
"The science has to tell the truth," he said.
The-obesity-paradox-imageJourney to the hill
Kalantar-Zadeh was born in Iran, and fled as a refugee to Germany, where he studied medicine at the Universities of Bonn and Nuremberg. He came to the U.S. in 1993 and earned a master's degree in public health and a doctorate in epidemiology from the University of California, Berkeley.
His post-graduate training included a medicine/pediatrics residency at State University New York's Brooklyn program and a fellowship in nephrology at the University of California, San Francisco.
From 2000 to 2012, Kalantar-Zadeh served as a faculty nephrologist at Harbor-UCLA Medical Center. He was appointed professor of medicine, pediatrics and epidemiology at the UCLA David Geffen School of Medicine and Fielding School of Public Health.
Since 2012, he has served as the chief of the Division of Nephrology and Hypertension at the University of California, Irvine, where he oversees educational programs at UC Irvine Medical Center and Long Beach Veterans Administration Medical Center.
He continued his UCLA affiliation as an adjunct professor of epidemiology at UCLA Fielding's School of Medicine and has maintained an active research center at LA BioMed. He is board-certified in internal medicine, pediatrics and nephrology.
His interest in the kidneys – two small but vital bean-shaped organs that sluice out wastes – blossomed when he studied briefly at Harvard University in Massachusetts, as a visiting medical student from Germany.
"That one month in Cambridge determined my future," he said. "No matter what I would do, I wanted to sub-specialize in nephrology."
Kalantar-Zadeh moved to the Peninsula shortly after becoming affiliated with Harbor-UCLA.
"Within a week of coming here I fell in love with Palos Verdes," he said. "I knew this is where I want to be, this is where I want my children to be."
His wife, Grace Lee, is a pharmacist at Harbor-UCLA, and their three daughters attend elementary, middle and high schools on the Peninsula.
Kalantar-Zadeh enjoys bicycling and jogging, which might help explain why he is on the decidedly thin side.
"It is ironic that I myself don't have a high body mass index," he said. "Oh well, this way I can say I don't have a conflict of interest."