Southern California Philanthropists Richard and Melanie Lundquist Make $70 Million Unrestricted Gift to LA BioMed, Will Be Renamed Lundquist Institute
Monday, February 11, 2019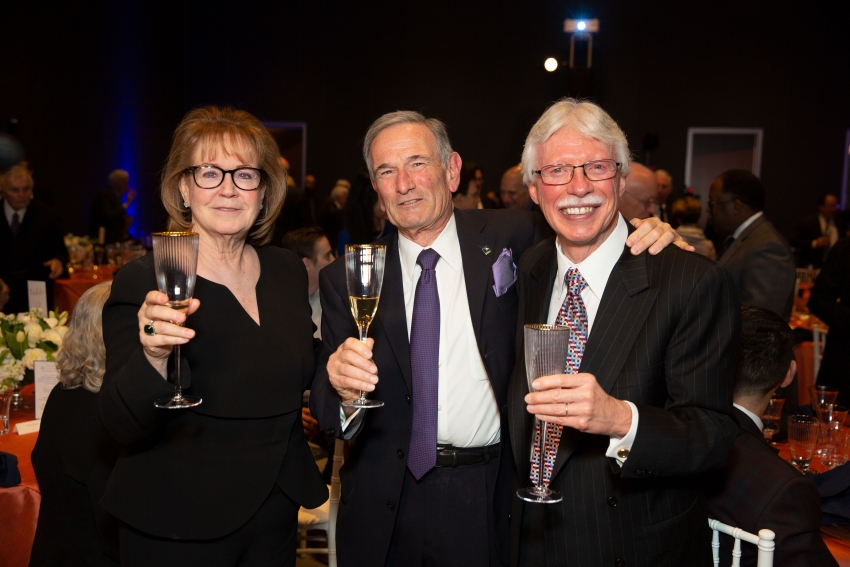 Funds will go toward recruiting top researchers and improving facilities in the South Bay region of LA County – one of the nation's top ten biotech clusters
LOS ANGELES – Southern California philanthropists Melanie and Richard Lundquist have donated $70 million to the Los Angeles Biomedical Research Institute (LA BioMed), a gift that will transform the institution by giving it a sustainable source of unrestricted funding to recruit and retain top researchers and provide the needed support and infrastructure. In conjunction with the gift, LA BioMed will be renamed the Lundquist Institute in the near future.
The Lundquists announced their gift at a joint 70 birthday dinner held on February 9 at the soon to be opened 78,000-square-foot Medical Research Laboratory building on the LA BioMed campus. That building, set to open March 30th, will contain offices, wet and dry labs and an 18,000-square-foot incubator operated by BioLabs, which will have room to house about 20 to 30 startup companies.
LA BioMed has a 66-year history of innovation. It is where paramedic training protocols and the nurse practitioner profession were invented. The institute has spun off 13 startups in the last 12 years, many under the leadership of President and CEO David Meyer, PhD. Those include Emmaus Medical, which has developed a treatment for sickle cell disease that is approved by the Food and Drug Administration, and NovaDigm Therapeutics, which is developing vaccines for fungal and bacterial infections commonly contracted at hospitals. The institute has also licensed products to two publicly-traded companies, including Kybella, a popular injectable treatment that removes fat from under the chin.
The Lundquists' $70 million gift will help the institute undertake more discoveries and launch many more companies that will meaningfully boost Southern California as a biotech center.
Critically, the gift is unrestricted, providing LA BioMed maximum flexibility and dexterity in recruiting and improving its facilities. Federal grant money, which the institute relies on to fund many of its studies, cannot be used to recruit scientists, while most foundations earmark their contributions for research into specific areas. As part of their gift, the Lundquists asked that Dr. Meyer remain as President and CEO for five years to help deploy the new funding. Melanie Lundquist, who has been a board member at LA BioMed for six years, will also remain in that role.
"When I first visited the institute several years ago, I was awestruck by the groundbreaking research underway—and frankly shocked it could be accomplished in their aging facilities," said Richard Lundquist. "I immediately decided to donate $1 million and get personally involved. I've spent time working directly with David Meyer over the last few years to help with the vision for LA BioMed's 11.5-acre campus and the selection of Johnson Fain as the master planning architects. Melanie and I have invested both our time and financial resources at the institute. This gift is a natural extension of our longtime engagement."
"It was important for us to do an unrestricted gift to provide the fuel to attract the best and brightest," said Melanie Lundquist. "I have been a member of the board of directors for many years, which has provided an inside look at the critical work being undertaken. We do our due diligence when we are considering philanthropic gifts—David and his team passed with flying colors. We are so excited for what he and his team will accomplish with our gift."
"The Lundquists' gift gives us the ability to compete for the top-tier scientists and researchers as we take our work to the next level," said David Meyer. "Leading this institution into this exciting new phase with their support is what I've worked for my whole career."
"Their $70 million gift is a natural extension of the Lundquists' philosophy of being bold with their philanthropy and finding places to contribute that are disruptive, significant and have scalable impact, such as their work improving public schools through the Partnership for Los Angeles Schools," said Dan Rosenfeld, Chair of the LA BioMed Board of Directors. "Richard and Melanie want to help accelerate discoveries locally that will save and improve lives globally through LA BioMed and we are honored by their faith and trust."
The donation will make it more enticing for biotech startups to set up shop in the South Bay region of Los Angeles County. That could boost the local economy while competing with other biotech regions such as San Francisco, San Diego and Boston, where many life science companies that get their start in Los Angeles often end up. The future Lundquist Institute, with its new source of funding, can now anchor a biotech hub in the South Bay.